READ & SEE MORE ABOUT THE SPINNING TOY TOP & YO-YO MUSEUM IN WISCONSIN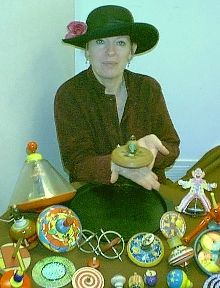 Click for times to visit the Top Museum

MORE ABOUT THE SPINNING TOP & YO-YO MUSEUM
media, appearances and features, etc. include:
-AAA Magazine, March 2012 Get up & Go Section: Yo-Yo & Skill Toy Convention 2012
-featured in Wisconsin Trails Magazine
May-June 2010. "Just might be Wisconsin's most colorful museum..."
Story + beautiful color photo of 12 tops and spinners.
-Tokyo, Japan: TV program Home Stay in the World, Yuki Ota, producer, worked with her for world record application


-the book WEIRD WISCONSIN includes us as a delightfully eccentric museum:
Authors Linda S. Godfrey and Richard D. Hendricks
(You may order a copy from us, autographed by the Top Lady, who is written about in the book. Email from this website for details.)
-DISCOVER WISCONSIN TV program, airs in 9 states on FOX TV: Story
-PBS' Wild Chicago TV fun show of odd & unusual things in the greater Chicago area. Aired in 11 states.
We are in the their book: Wild Chicago Companion Guidebook to the Wildly popular TV Show
book by Will Cloinger, Mindy Bell, Harvey Moshman
-the cover of Spirit Magazine, with extensive article
-Ripley's Believe It or Not TV show (episode #420): first aired October 2003, watch re-runs, they appear 2 or 3 times per year we hear
Dave Nemo Show, Sirius XM Satellite Radio: appeared on the segment Destination Detours,
in a live interview with Dave and Judith Schulz, Oct. 29, 2013. The Dave Nemo Show is a favorite with truckers.
Travel +Leisure's America's Strangest Museums, webpages, beginning Dec 2013, (we are more unique than strange though)
-Reminisce magazine, The Magazine That Brings Back the Good Times. 2 full pages center: story & photographs (Nov-Dec.1998)

-introduced & recommended by the famous comedy team The Smother's Brothers during their live show
Milwaukee Magazine: feature article
the famous Green Sheet: front page feature, Milwaukee Journal
Farm Family America magazine, featured article

Contact Kids Magazine, a Sesame Street publication
Off Beat Museums book: one of the 50 museums selected from the entire United States for the book
Toy Collector magazine
Milwaukee Metro-Parent, feature about the museum's annual Yo-Yo Convention
tour books: Eccentric America; AAA Travel Guide; Oddball Wisconsin; Mobile Travel Guide; Fun with the Family in Wisconsin;
Great Little Museums of the Midwest; Museums, Zoos, & Botanical Gardens of Wisconsin by Anton Rajer, and many others

contributor to Lucky's Collectors Guide to 20th Century Yo-Yos, which is in the Smithsonian (we are honored!) and copies are
for sale in our gift shop
Games Around the World - Spinning Toys by Dana Meachen Rau: photographs of tops in the book are actually from the Top Museum,
collection of Judith Schulz
Wisconsin Trivia

a 1994 book by Kristin Visser with
a questions about the Spinning
Top & Yo-Yo Museum (formerly called
Spinning Top Exploratory Museum)
on page 57
newspaper features include: Racine Journal Times, Burlington Standard Press, Journal Times (Racine County, WI),
The Week (Delavan, WI), Journal Sentinel (Milwaukee, WI), Green Bay Gazette, Kenosha News, Janeville Gazette,
Chicago Tribune, Chicago Daily Herald, Chicago Parent, Cleveland, The Indiania Times, Simpson Free Press (Madison),
Milwaukee's famous former prestigious Green Sheet, and many other newspapers
radio guest on talk shows including: WHAD (Wisconsin Public Radio), WRJN, WMCW, WFAW,
WMIL (FM 106.1 country) and stations in 8+ other states and Canada and Australia
guest on television shows in 4 states


MGM MOVIE
The Top Museum and the Top Lady are listed
in the credits of the 1993 MGM movie My Summer Story;
which is a sequel to A Christmas Story with Ralphie.
Judith D. Schulz is the Tops Expert for the movie and worked
on the set. She taught the stars how to spin tops, provided top advice,
coaching & is the actual expert spinner for many of the
scenes in the MGM film.
Click on this for more on the the museum's role in the movie!

The cover art for VHS was changed when it became a DVD.
So when you watch this movie, we hope you will read the credits.
We have 4 lines together, and set apart, making them easy to spot!
When you take the unique Top Museum tour, you might see
actual tops from
the movie, and maybe a demonstration
by the
Tops Expert.








Midwest Living Magazine; Nick, Jr. Magazine; & the Chicago Tribune recommend our annual Yo-Yo Convention
as a celebration to attend!
Old World Wisconsin: a featured presentation at WPR's (Wisconsin Public Radio) Listener Appreciation Day luncheon program
featured guest at Spotlight On Racine, a live news & comedy show with actors & interviewers for a live audience
ChocolateFest: conducted two yo-yo contests for the annual festival
WBSD October 1, 2006 89.1 FM an interview with the Spinning Top Museum director

CBC (Canadian Broadcasting Corporation): Live radio interview on the Larry Fedoruk News/Talk Show 610 CBC
about the Yo-Yo Convention held in March 2007

Verona, Italy: the International Guest as top spinner at International Festival of ancient and historic children's
games that were (and are) played in the streets and roads around the world

GUMBO TV filmed segments at the 12th Annual Yo-Yo Convention, March 2007

On The Waterfront Music Festivals Rockford Illinois: Street performer

KidsFest: Hands-on top spinning with thousands of children and families at Wisconsin State Fair Park,
sponsored by MetroParent Magzazine, April 15, 2007

Wisconsin Assisted Living Association Convention held in Madison Wisconsin: yo-yo performer at a company's booth: 2008

Wisconsin Woman Magazine April 2008: photo and info Yo-Yo Convention

Conducted Yo-Yo Contest, Walworth County Fair 2008

WKOW Madison, Wisconsin 10 pm News Show: video segment called Someone You Should Know,
Spring 2009 http://www.wkowtv.com/Global/category.asp?C=135523

Antique Week Magazine: Sept 2009, article about this museum and collecting yo-yos

Family Fun Magazine's October 2013 issue: "the fun list" page featuring a large photo of a top,
and a recommendation to take part in the free International Top Spinning Day
(held 2nd Wed. of October, every year, wherever you are)


Trip Advisor's

2014 internet article & recommendation of this museum: "

9 Wacky Museums for Families"

Wisconsin Jewish Chronicle newspaper, Dec. 2014 Dreidle article showcases our largest dreidle and invites readers
to see the exhibit at the Spinning Top & Yo-Yo Museum.

Our Wisconsin magazine, Feb-March 2016, photos of Duncan yo-yos
from the Spinning Top & Yo-Yo Museum, collection of Judith Schulz

and many more
SPINNING TOP & YO-YO MUSEUM
533 Milwaukee AV, Burlington, WI 53105 USA
www.topmuseum.org (262)763-3946
...............................................................


gyroscopes are tops, too

Gyroscopes are part of the exhibit at the Spinning Top Museum with examples from many countries
including France, England, the United States, Norway, China, and Japan. Kinder eggs, Marx Ballet Dancer,
Mr.Potato Head, Charlie Brown, the Eiffel Tower, the Jockey Top Gyro, Wonder Clown, the Jumping Wizard,
endless classic gyroscopes from numerous manufacturers plus many Wizzzers are exhibited, to name a few.

The annual Gyroscope Contest is held at the museum with Tedco gyroscopes as the prizes.
You are invited to the contest, just give us a call for the time and date. (262)763-3946

TOPS & GYROSCOPES FOR SALE/CATALOG


..................................................................

The Spinning Top & Yo-Yo Museum is
a unique tourist attraction for bus tours,
group tours, families.
Call to arrange a tour time.